NF-168V/NF-168S is an updated item with multifunction of cable tracing,mapping and visual fault locator (this function is only for Nf-168v)accordingto sales requirements. It follows the shells of nf-168 emitter and receiverBut compared to series products, it's highlights is three tracing modes threemapping mods, and Visual fault locator. Tracing modes---ordinary tracing,Anti-interference, POE switch; Cable mapping--fast mode, Slow mode,Manual mode: Visual fault locator-continuous mode Pulse mode.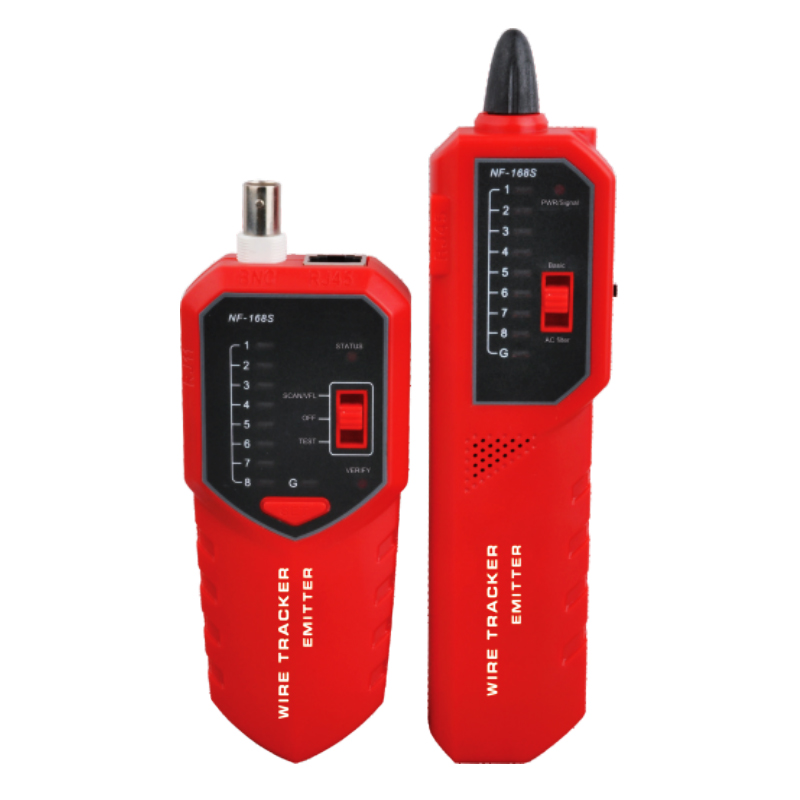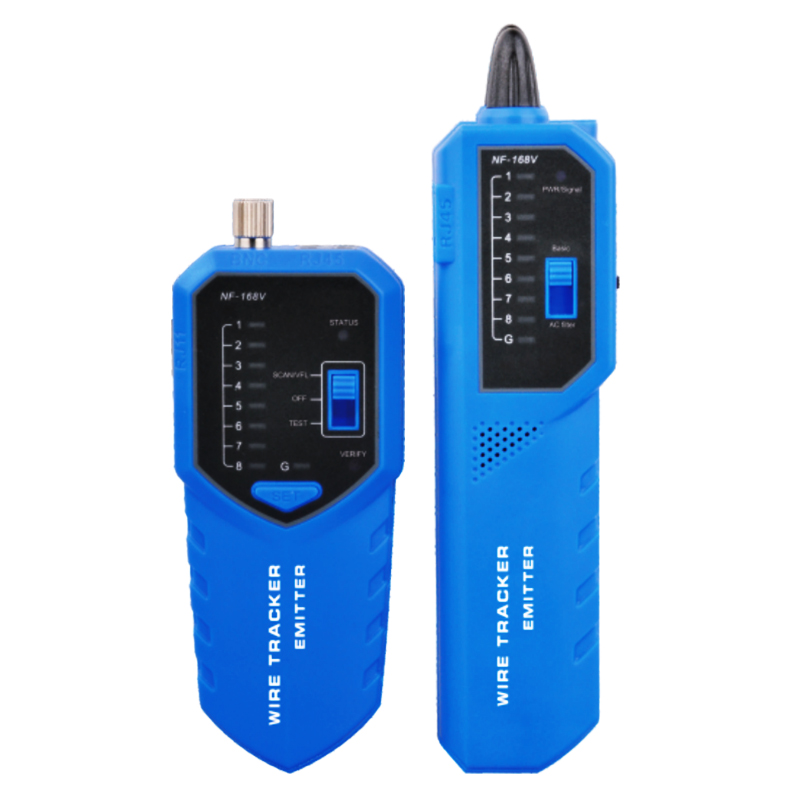 Product Interface and Keypad Introduction
bg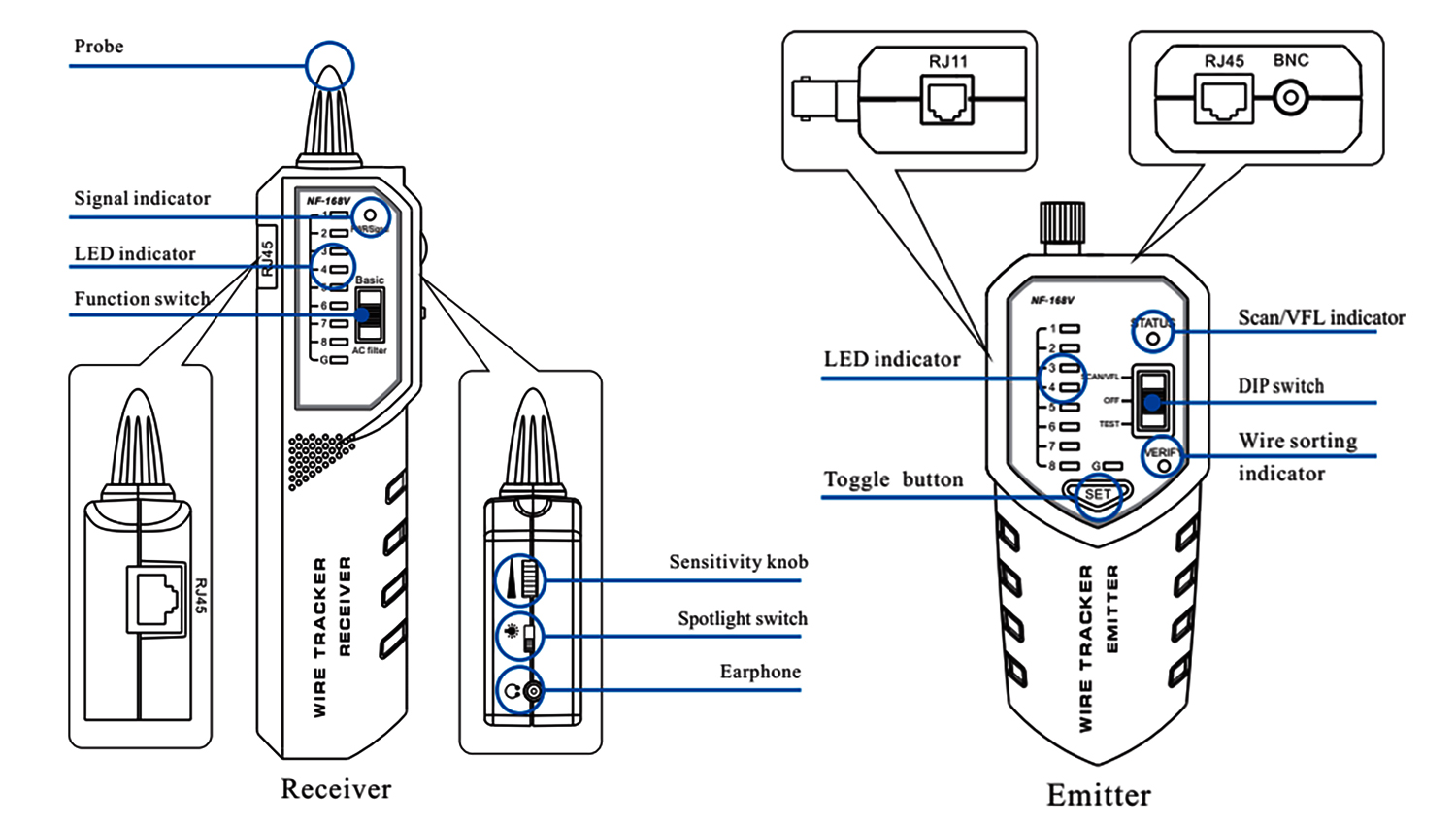 Basic tracing
Emitter
Push the key to "SCAN" to enter the basic tracing mode, then blue indication flashes, which means the emitter works well. Connect one end of network cable/telephonecable(BNC cable only for NF-168S) to the RJ45/RJ11 (BNC cable only for NF-168S)port of launcher.
Receiver
Push the key to "Basic", the brightness of indicator and the sound of the speaker isdynamically changed according to the the signal strength. (note that in this mode, even if there is no signal, the indicator and the speaker will have a weak changed), whichmeans the receiver works well, then hold the receiver to find the target line.
Tracing mapping ( RJ45 as an example)
bg
◪

Connect two ends of network calbe to the RJ45 port of launcher and receiver separately.

◪

And push the key to "test", the wire sort indicators will flash, which means the transmitter works well.

◪

If the wire is normal, and the GND is not connected, then the 8 indicators will flash one by one. And if GND is connected, then the 1 to 8 and G indicators will flash one by one.

◪

If there is miswires as below. If line"2" is open, then the 2 indicator of emitter and receiver will not flash. If there is several lines are open, the corresponding indicators will not flash. And if less than 2 lines are connected, none of the lights is on. When the line are cross, for example, line"2" and line"3" disorder, the indicators flash as follows.
Transmitter : 1-2-3-4-5-6-7-8-G Receiver: 1-3-2-4-5-6-7-8-G
When there is short circuit of line"2" and "3", the 2 and 3 indicators of receiver will not flash while the other lights still do.
(1) Low-voltage hint function
When the battery is low (≤6V), push the function button to "scan" or "test", at this time, both the scan indicator and wire sorting indicator will flash, which means the battery should be replaced.
(2) Earphone function
The earphone can be worn in noisy environment for operation so as to avoid external interference.
3) Sensitivity adjustment function
Turn the sensitivity adjustment knob on the receiver when tracing cable to adjust the value to be the appropriate degree.
(4) Floodlight function
The side floodlight can be started at night or in dark. The floodlight turns on so as to facilitate your normal operation.
(5) Wire sorting directly with switch
Connect the line to be tested with transmitter and switch,then get the result from flashlights.
Emitter

Tracing

Compatible cable
RJ45, RJ11, BNC cable
Max. signal voltage
8±1.0Vp-p
Max valume
105dB
Tone frequency
455Hz
Tone mode
1 Tone
Ordinary tracing
YES
Anti-interference
YES
Distance of transmission
RJ45 300M non-load/load

VFL (NF-168V)

Wave length
650nm
Power
5mW
Mode
Constant ight mode, Blinking mode
Mapping
Fast, slow, manual
Battery Type
DC9.0V(6F22 DC9V x 1pcs)
Battery low indicate
6.0V±0.5V
Voltage protection
DC 60V
Max. working current
Less than 100mA
Dimension(LxWxD)
146*57*30mm

Receiver

Anti interference reception
YES
Sensitivity adjust
YES
Ordinary Huting
YES
Earjack
YES
LED lighting
YES
Battery Type
DC9.0V(6F22 DC9V x 1pcs)
Power indicate
LED Power indicator
Battery low indicate
6.0V±0.5V
Max. working current
≤150mA
Dimension(LxWxD)
187*46*27mm
Company Advantages
· fiber tester otdr, unique in structure, can be used under vibration without electro-hydraulic leakage. It is safe and reliable in use.
· The product can provide the same result every time. Its precise programming makes it perform tasks with the same specifications and process.
· Many customers appreciate it a lot because they find it hard to find any loose threads or unqualified stitches on this product.
Company Features
· SHENZHEN NOYAFA ELECTRONIC CO.,LIMITED is very professional in manufacturing underground wire tracer, which is reliable among customers.
· SHENZHEN NOYAFA ELECTRONIC CO.,LIMITED has complete supporting equipment for underground wire tracer production.
· SHENZHEN NOYAFA ELECTRONIC CO.,LIMITED spares no effort to improve the standard of underground wire tracer with quality support. Please contact us!
Application of the Product
NOYAFA's rj45 rj11 cable tester is widely used in the industry and is widely recognized by customers.
Based on the actual needs of our customers, we provide a one-stop solution for them with the purpose of rational allocation of