NF-8601S can meet all requirements from customers from every aspect about the functions including POE testing, Port flash,AC voltage detection with regular tracking mode, Anti-interference tracking mode and high power tracking modes built-in.
NF-8601S, u pg rated based on NF-8601, provides full cable testing on different category network, coax, or telephone cable. The intelligent wiremap' feature tests for length, shorts, split pairs, or opens and displays with an intuitive graphical interface where a fault is located. (usingTDR techonology:Time Domain Reflectometry). Besides, finding cables easier and tracing with AC fl iter, or locating network port using hub blink feature. It can also test the presence of PoE and PING functions, all these make it a must tool for each network technician.










Read the precautions before your operation.
▣ Power supply for device is 3.7V rechargeable lithium battery.
▣ Disconnect the 5V lACharger when complete charging in fear of danger.
▣ Please use battery according to the specification; otherwise, it may result in damage to equipment.
▣ Never put the equipment in the place with much dust, humidity and high temperature (over40°C).
▣ Please never dismount the equipment arbitrarily. The maintain -ance and care shall be conducted by professional personnel.
▣ Users can set the auto-off time according to his own needs.
▣ Please take out the battery in launcher and receiver if the equipment is not used for a long time so as to prevent that the battery liquid is leaked in future.
▣ Never use the equipment to detect power cord with electricity (such as power supply circuit of 220V), otherwise, it may result in damage to equipment and personal injury.
▣ Never conduct related operation of communication line in thunderstorm weather so as to prevent lightning stroke and Impact on personal safety.
Main Functions
◆ PING Testing.
◆ Detect PoE presence and how much the voltage is.
◆ Hub blink for locating network port by the flashing port light on Hub/Switch.
◆ Wiremap with length, testing open, short, cross, reverse, display the fault distance.
◆ TDR theory to measure cable length and provide distance to fault information.
◆ To perform split pair test on network cable to solve the potential problem of slow speed.
◆ To quickly find the targeted cable without AC noise.
◆ Two scan modes:ordinary switch/PoE switch.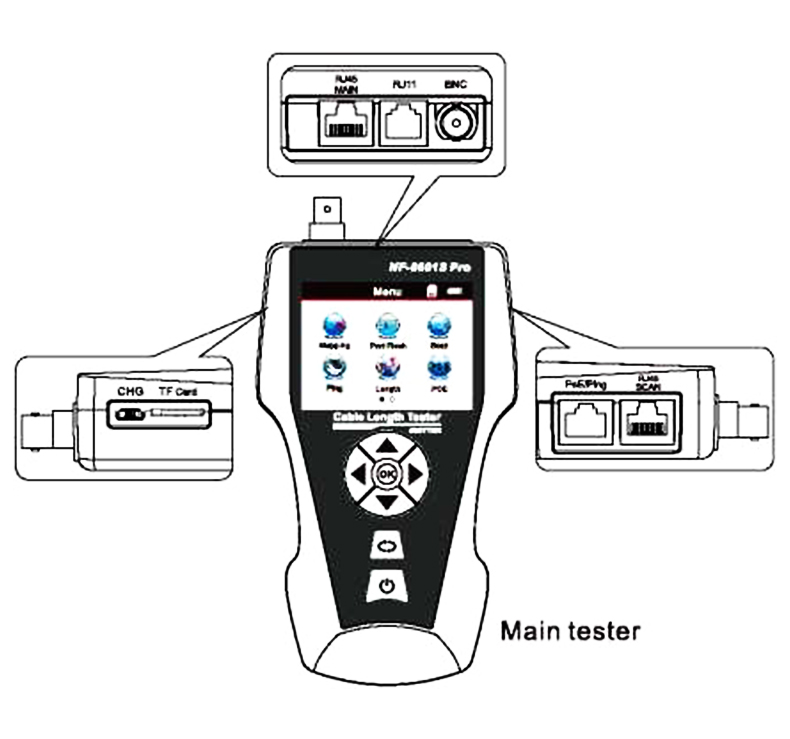 Technical parameters
(1) Overall dimensions: Main tester: 173X92X34mm; Receiver: 183X58X35mm; Remote identifier: 106X32X30mm.
(2) Display : 2.8 inch LCD Color screen:320X240 (Effective visible area 60X45mm).
(3) Power supply : 3.7V rechargeable lithium battery1800mAh
(4) Tracing cable types STP/UTP Cat5e, cat6, cat6a, cat7 network cable, telephone cable, coaxial cable,and common metal wires connected with alligator clip.
(5) Testing cable types : STP/UTP Cat5e, cat6, cat6a, cat7 network cable, telephone cable, coaxial cable,and common metal wires connected with alligator clip.
(6) Operating environment temperature/humidity : -10°C ~+60°C /20%~70%;
(7) Testing device interface : Main unit: RJ45 (M), RJ45 (S), PoE/PING, RJ11, BNC ports, Remote identifier: RJ45, RJ11, BNC ports.
(8) Length measurement : Range: 1-1500m; Calibration precision: 2% (+/-0.5m, or +/-1.5 feet); (calibration; cable>50m) measurement precision: 3% (+/-0.5m, or +/-1.5 feet); Display unit: meter, feet, yards.
(9) Length calibration : User can set a length value at a known length, and then use the calibrated data, (the cable should be 20m at least, but a cable,50m is recommended)
(10) Cable wiremapping : Open, short, reverse , cross, split pair, etc.
(11) PoE/PING Testing
(12) Tracing cable : Locate targeted cable among lots of cables.
(13) Automatic power-off : Users can choose time to turn off the tester automatically.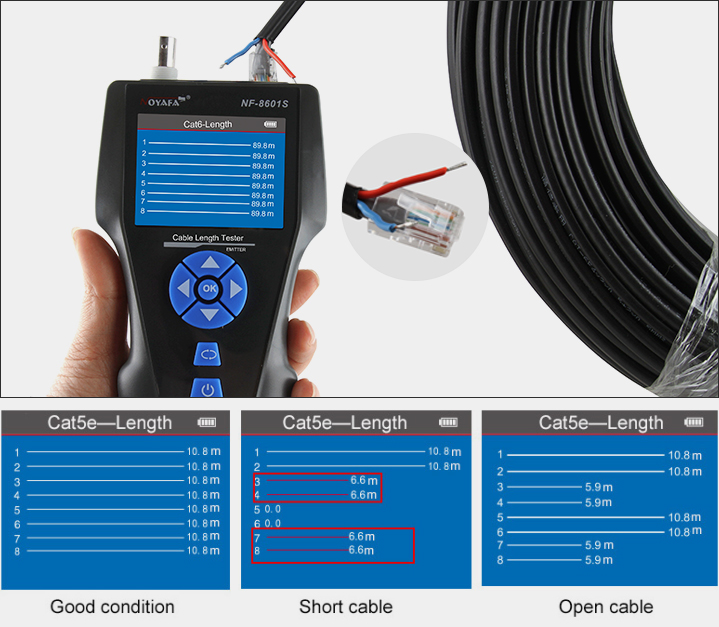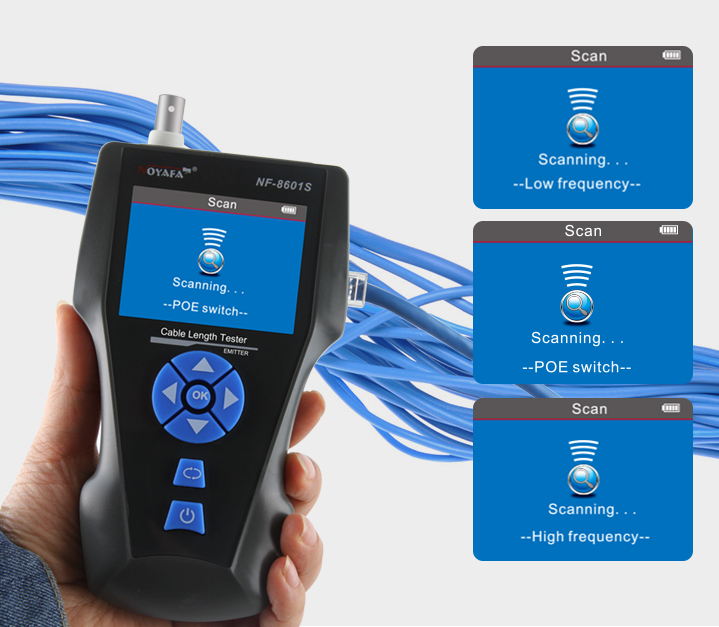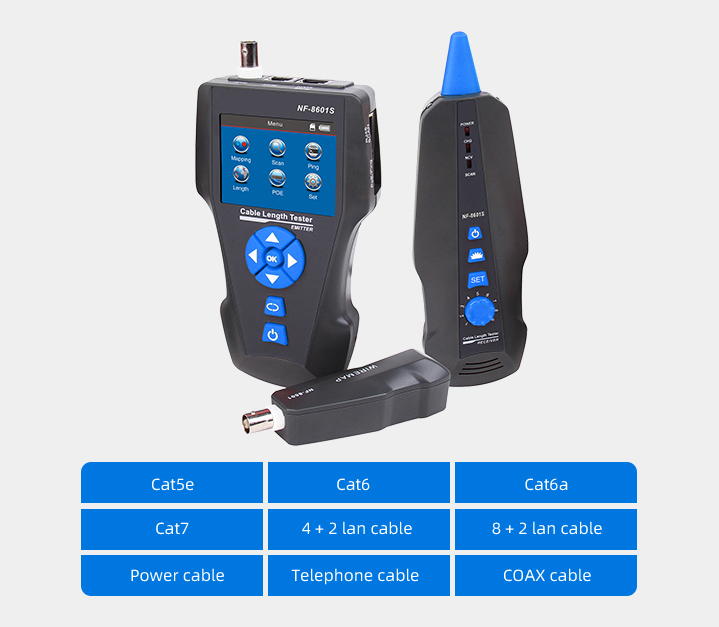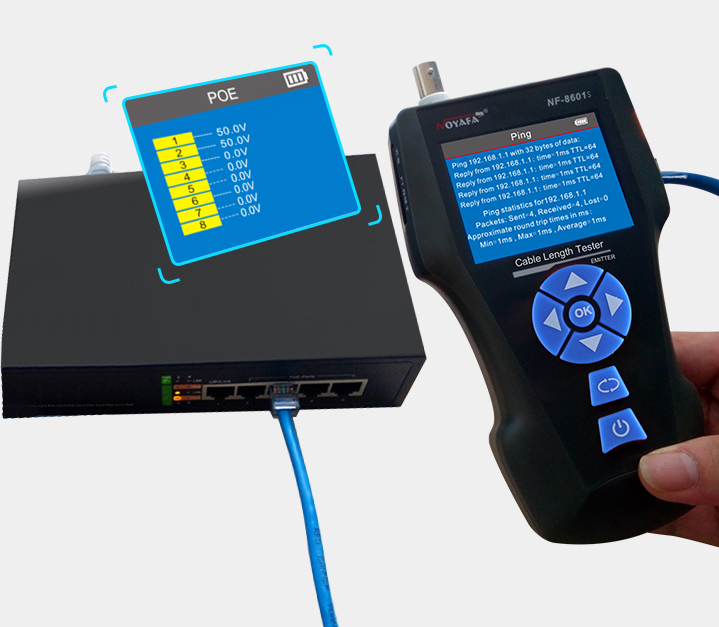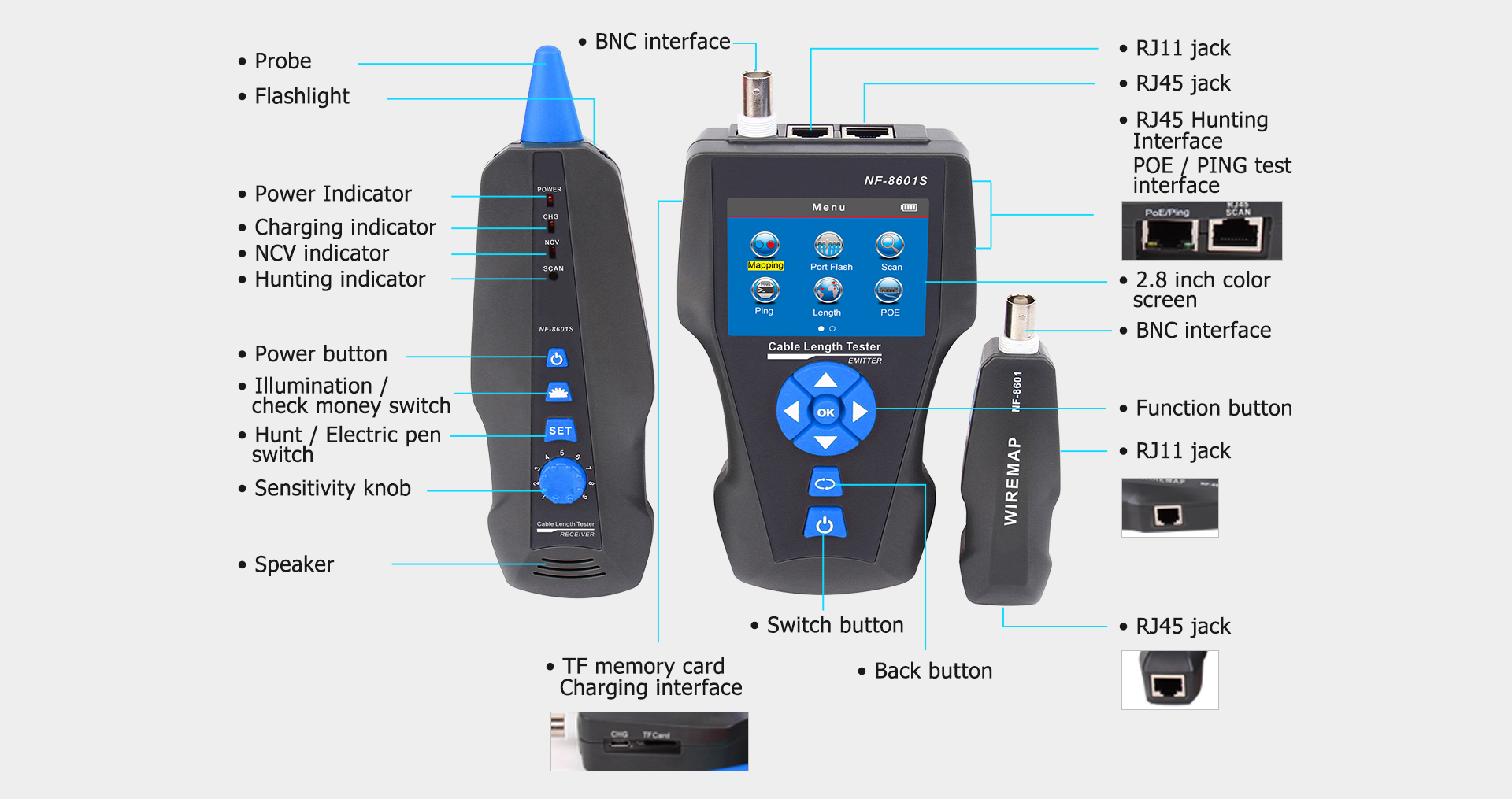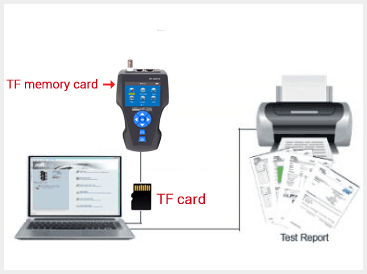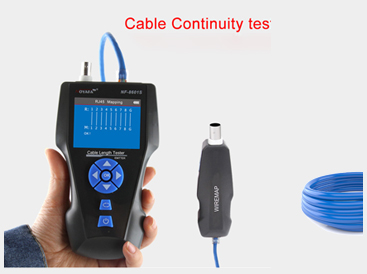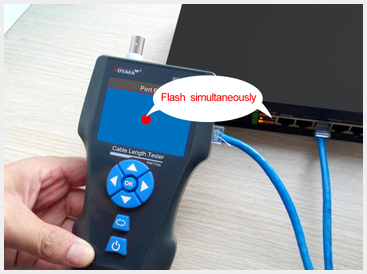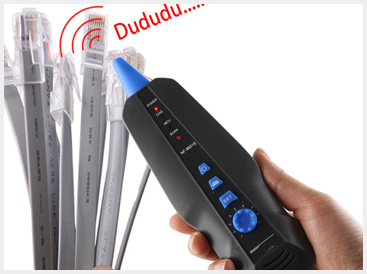 Company Advantages
· NOYAFA network cable tester rj45 features a reasonable and practical design. It is created by the designers who have taken radiation level, anti-jamming capability, and electromagnetic compatibility into consideration.
· The product is renowned for its excellent electrical insulation. Its insulative wires are not likely to age or fracture, guaranteeing stable electric performance.
· The product is widely sought after in the industry and has served many global customers.
Company Features
· Today, SHENZHEN NOYAFA ELECTRONIC CO.,LIMITED is a reliable Chinese manufacturer, offering quality manufacturing service of best network cable tool kit consistently with precision, pace, and passion.
· Producing high-quality best network cable tool kit has always been the goal for our technical staff.
· By improving management concepts and plans, NOYAFA will continue to improve work efficiency. Please contact.
Application of the Product
fiber line tester can be applied to different industries, fields and scenarios.
In addition to creating excellent NOYAFA is also able to provide comprehensive and reasonable solutions for customers.