Designed with slim pen shape, NF-5310B get attention from customers for it's beautiful design, reliable quality and also the practical usage. Customers can use the device to identify the cable by NCV scan function. As a self detecting multi meter, NF-5310B can auto detect what's measuring, such like voltage, current, resistance, capacitance etc.for some high voltage usage, NF-5310B was designed with phase sequence detection.
6000counts is a pocket type 3 5/6 digits true effective value, pen-type smart multimeter, no need to turn the dial to select the function,according to the input voltage / resistance / difference, the meter will automatically identify and measure,the performance of this machine Stable, high precision, high reliability, clear reading, overload protection function.Driven by a AAA 1.5V battery, this meter uses a large LCD display and a boost power supply. Even at the edge of a 0.8V low battery.This meter is easy to carry and is a meter that most users like very much. This series of meters can automatically identify DC voltage, AC voltage, resistance, without any switching, and can also be manually switched to measure capacitance, diode, continuity test, non-contact Voltage measurement, zero live line measurement, phase sequence measurement and other parameters,It is a tool meter with superior performance, an ideal tool for laboratories, factories, radio enthusiasts and families.









This series of meters is designed to comply with IEC1010 (safety standards promulgated by the International Electrotechnical Commission). Please read the safety precautions before using it.
1.When measuring voltage, do not input a limit voltage that exceeds the effective value of DC1000V or AC 700V;
2.The voltage below 36V in the current file is a safe voltage;
3.When changing functions and ranges, the test leads should leave the test point;
4.Choose the correct function and range, and beware of wrong operation. Although this series of instruments has full range protection, for safety reasons, please pay more attention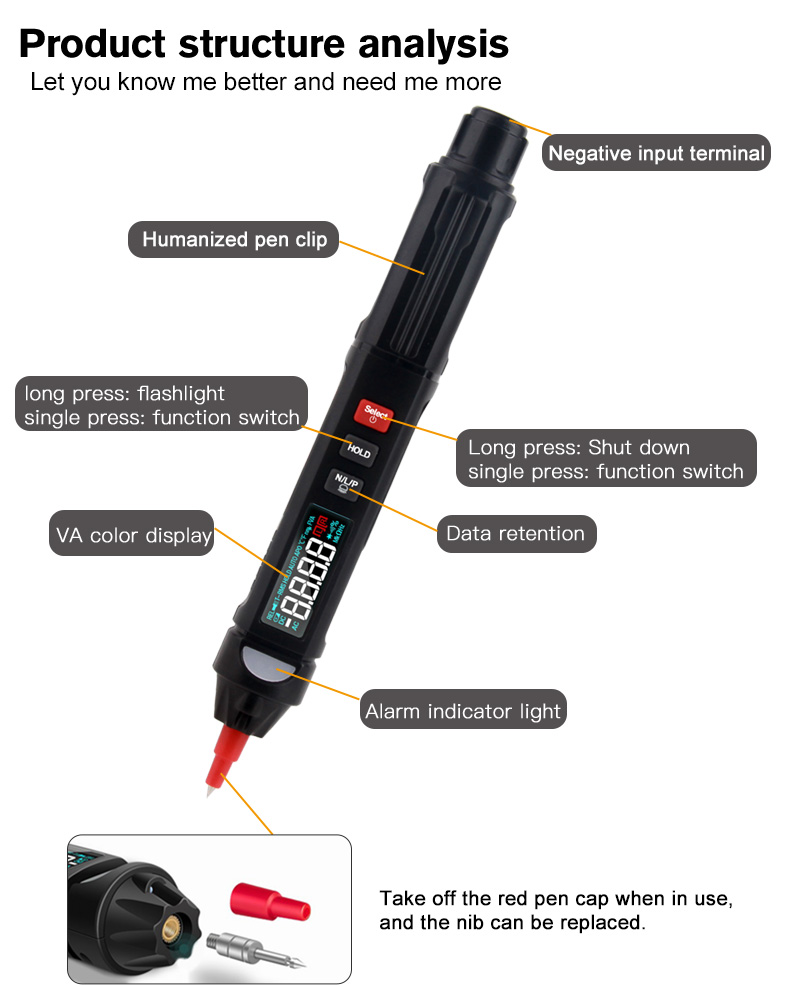 | | |
| --- | --- |
| Model | NF-5310B |
| Count | 5999 |
| Screen display | Color reverse display screen |
| AC voltage | 700V±(0.5%+4) |
| DC voltage | 1000V±(0.5%+4) |
| Resistance measurement | 60MΩ±(0.8%+5) |
| Capacitance measurement | 60mF±(3.5%+20) |
| Temperature measurement | (-20~50A)℃±(1%+5)<50℃ |
| Diode | √ |
| Continuous continuity | √ |
| Frequency | √ |
| Phase sequence measurement | √ |
| NCV measurement | √ |
| Unit symbol display | √ |
| True RMS test | √ |
| Automatic switch | √ |
| Flashlight lighting | √ |
| Two-color signal light | √ |
| Size and weight | 171mmX24mmX21mm 80g |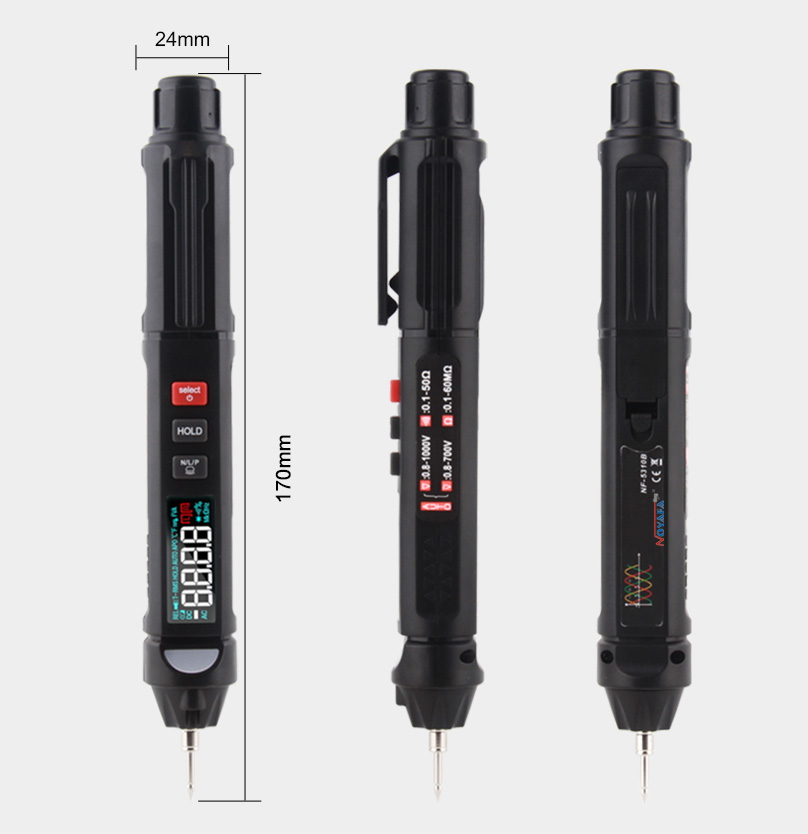 Operation Panel Instruction
1.Test pen tip: positive end test point of voltage, resistance, capacitance, frequency, phase sequence;
2. Input end test protective glue
3. Flashlight;
4. Signal indicator;
5. LCD display;
6. Power and function selection key SELECT (long press for power on and off, short press for manual DC voltage/AC voltage respectively/Resistance/diode, buzzer measurement/ capacitance/frequency/temperature measurement);
7.Lock the HOLD button; (if the LCD display is black and white, long press is to turn on and off the backlight)
8.Electric field induction measurement/zero line
9. measurement/phase sequence measurement:This series is divided into phase sequence measurement (color screen display) and non-phase sequence measurement (black and white screen) two models;
10. Pen hang;
11. Measuring negative input COM;