Compared with members among NF-468 series, NF-468S wins customers' heart not only for it's excellent reliability for continuity testing for RJ45 and RJ11, but also for it's outstanding PoE standard testing and the contact between crystal head and pin test function, as a continuity tester, NF-468S also support external power source to work.
NF-468S is a multi-functional cable tester which integratesmultiple types of cable test and POE test . It can test whetherthe open circuit , cross circuit and plug of wire RJ45 , RJ11and RJ12 are in normal work . It can also be used to testwhether the network cable is powered and the power dataIt can identify the type of Power Sourcing Equipment ( EitherEndspan or Midspan ) in your network . It is widely used incom mercial , household and other fields.
Single head test crystal head
bg
Quickly detect when the crystal head is pressed
Product features:
1. Quickly and easily to test results--open , cross , pass , short.
2. Quickly to check the RJ45 / RJ11 plug
3. Quickly identify the type and provide power of Poe
4. Compliant with IEEE 802 . 3af / 802 . 3at POE standard
5. RJ45 connector, simple plug in the cable 6. When the battery power is low, the " power " light will quickly flash.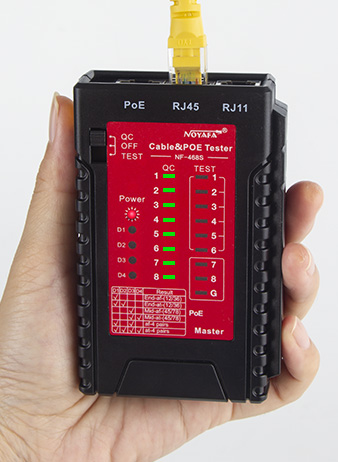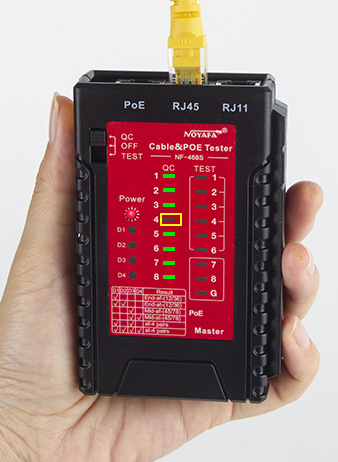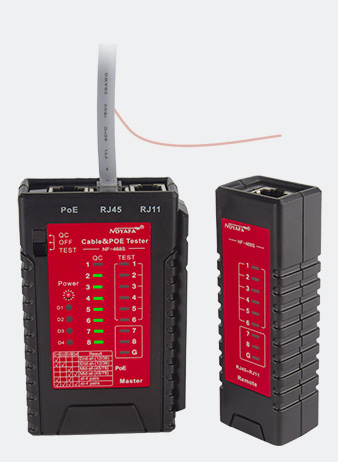 | | |
| --- | --- |
| Model | NF-468S |
| Maximum testdistance | 2000m |
| Cable type | RJ45 Network cable Cat5 / 5e / 6 / 6a ( UTP / STP )RJ11 / 12 telephone wire Cat3 ( 6P2C / 6P4C / 6P6C) |
| Testing indicator | 8 indicator lights for quick test |
| Shield indication G | Avalible |
| QC | RJ45 / RJ11 plug test |
| PoE | 4LED ( Midspan / endspan connection at / afPOE power environment ) |
| Detect PoE | Avalible |
| Size ( LXWXD ) | 10 . 4x9 6x2 7cm |
| Power Supply | DC9 V |
| Weight | 200g |