NF-8601 Series are newly developed by our company which arecapableofanti current interference. The equipment is composed ofthree parts: main tester(nf-8601-m),receiver(nf-8601-s)andremote identifier(nf-8601-r) It is a multifunction device, capableof measuring cable length, cable tracing, cable continuity testing.POE and PING functions. also it can detect voltage presence. Userscan read the test results visually from the 3.7 inch color screen. Allthese make this item be as a practical tool for low voltage systeminstallation and maintenance technicians of communication circuitsand comprehensive wiring circuits. It is widely used in the fields liketelephone system, computer networks and other metal lead circuits.
1. Capable to test open , short , cross connection , reverse , andbroken wire positioning with M-S , M-R method.
2. To perform crosstalk test on network cable to solve the potentialproblem of slow speed.
3. Measure length of network cable , coaxial cable , telephone cableand USB cable up to 2000m , no connection of remote unit.
4. To quickly find the targeted cable without stripping isolationamong unknown cables.
5. Portctiocate the taraet network cable more eaon the Router / switches with electricity.
6. To trace cable on exchanger or Router without current interference.
7. Locate breakage and short position accurately.
8. Scanning cable on the POE Router.
9. Detect POE presence and how much the voltage is.
10.PING Testing.
NF-8601 from Noyafa was popular among customers all over the world for it's outstanding function features such like:
▣ PoE testing to identify which pins are providing power and measuring the voltage for it.
▣ PING Testing to test network performance, data packet, min & max time.
▣ Track with AC filter Tone trace cable with complete AC Interference.
▣ Hub blink locating network port by the flashing port light on Hub.
▣ Length and Faults location Measure length of network cable, coaxial cable, telephone cable.
▣ Cable continuity Capable to test open, short, cross connection.
▣ Data export and print] TF function to import and export data from comupter.
▣ Voltage detector tone probe can be used to detect voltage (90-1000V).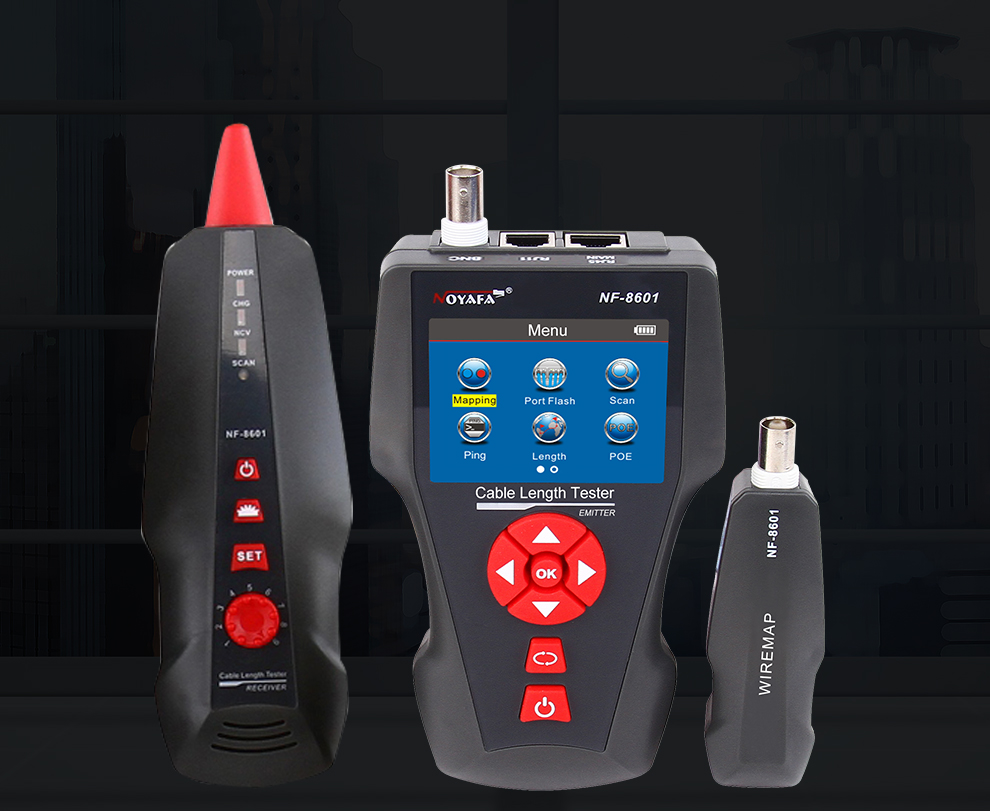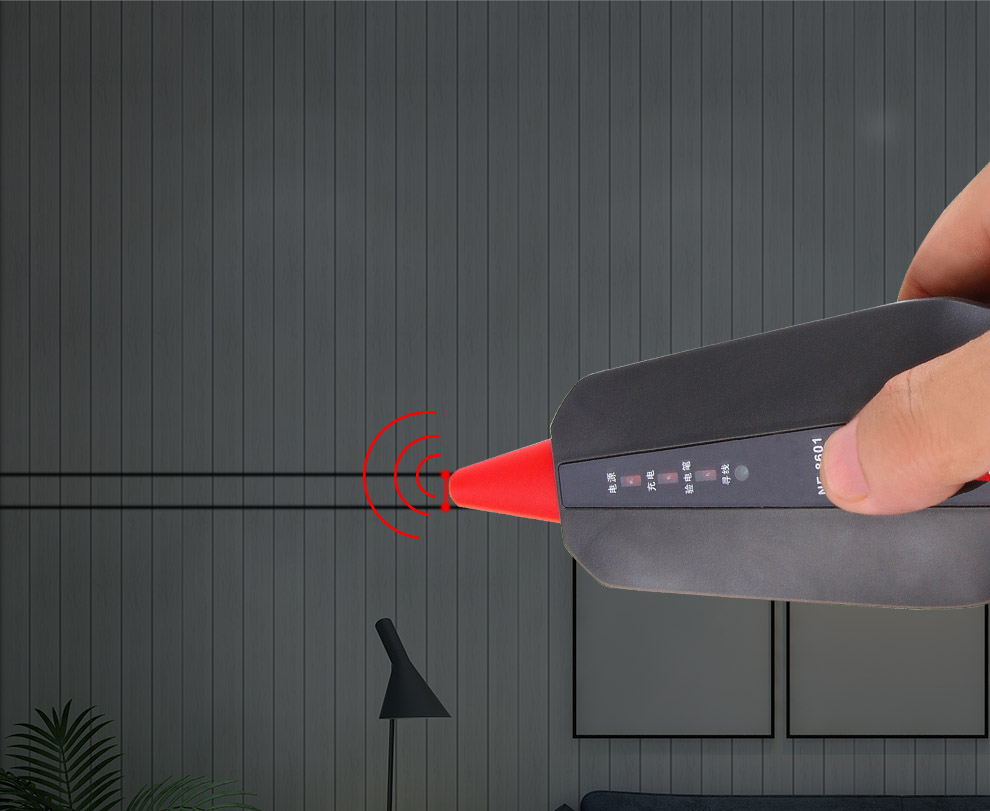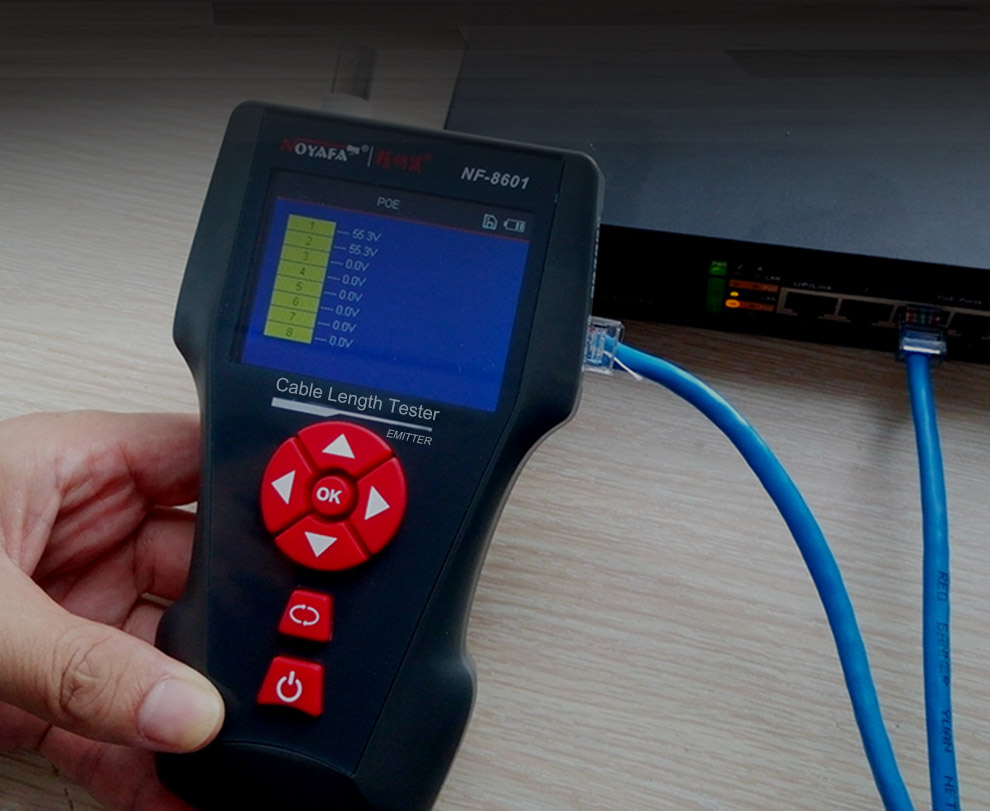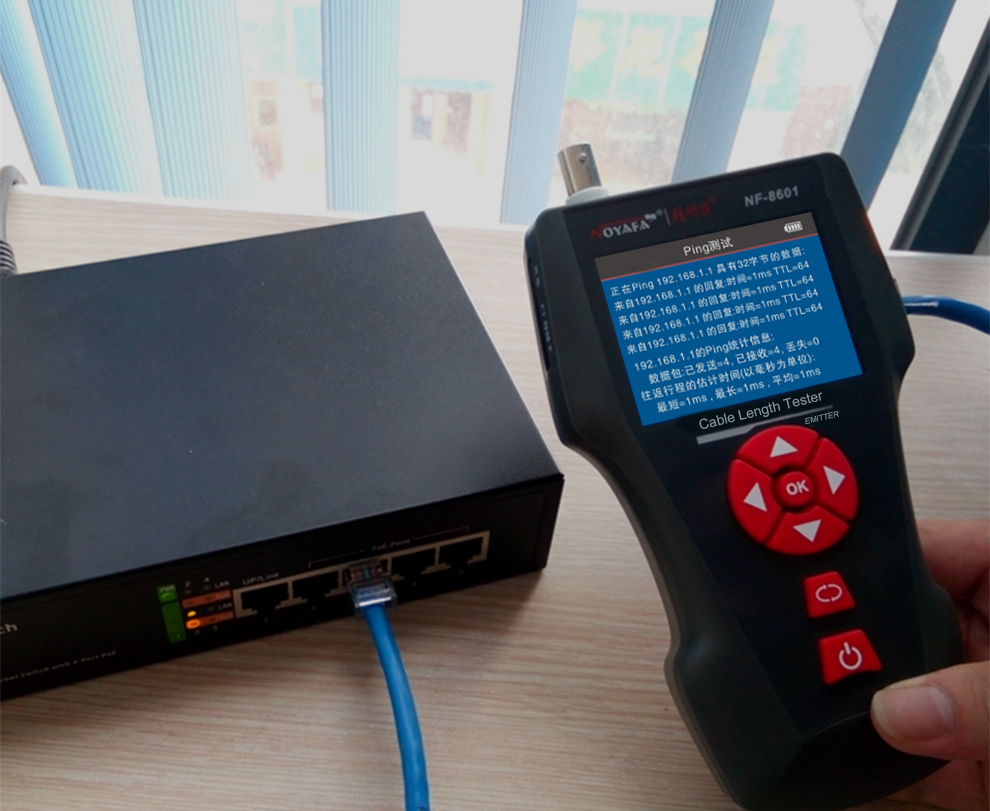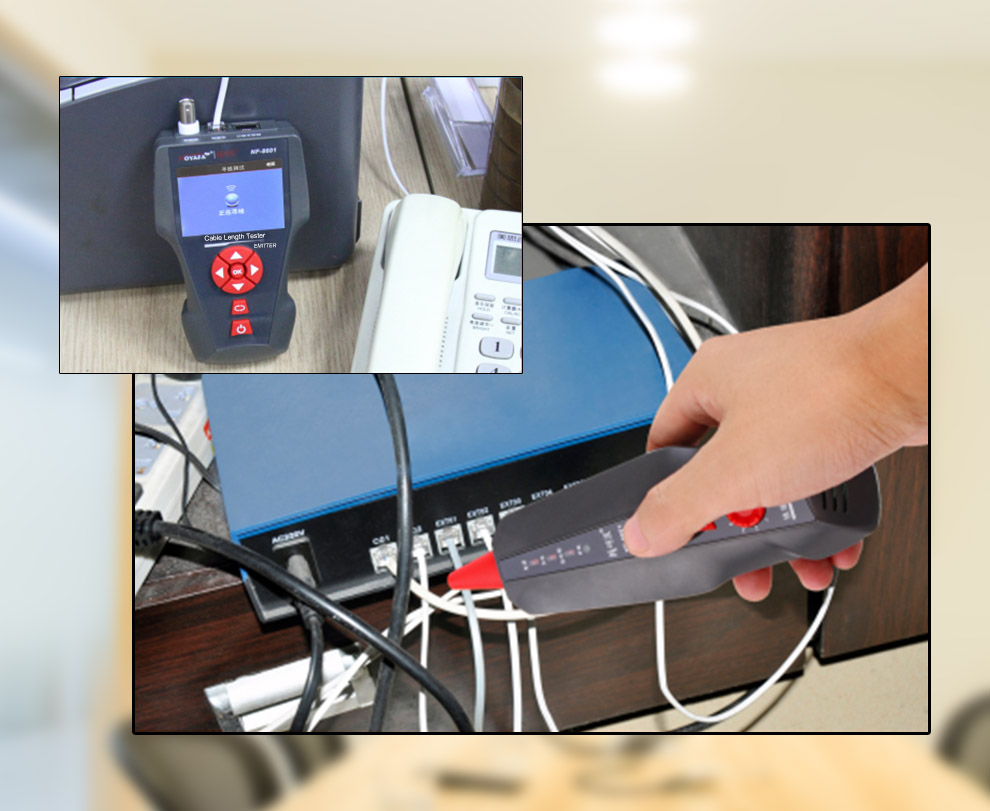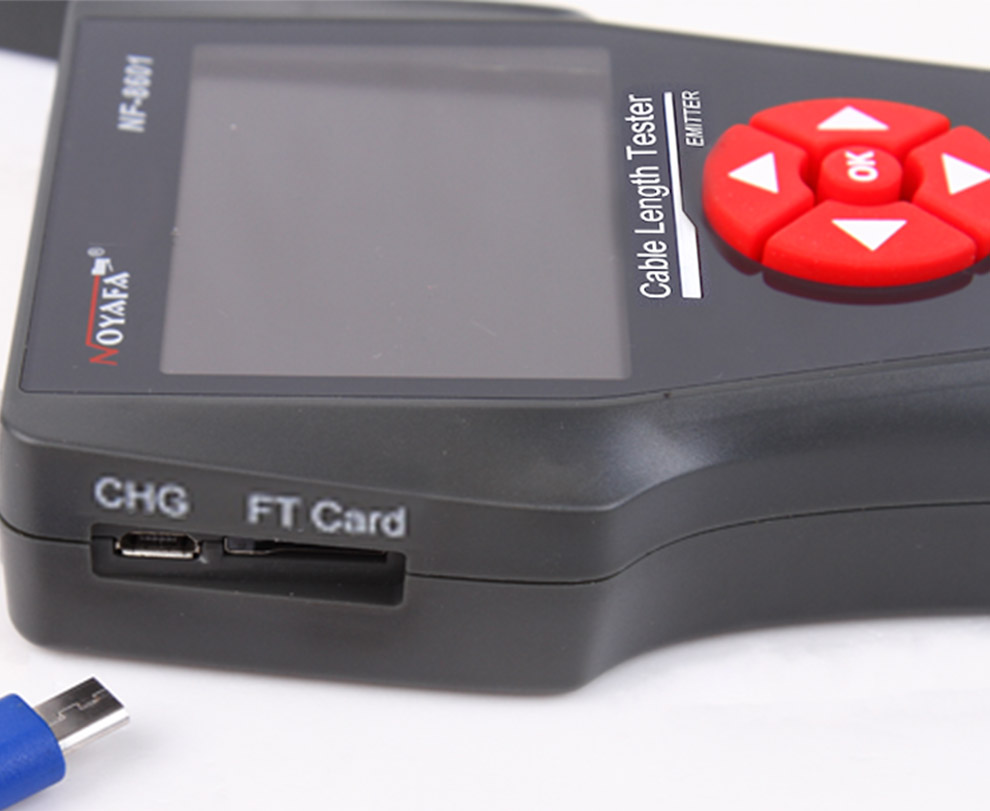 Indictor
LCD 320x240 mm, with backlight
Cable test types
STP / UTP 5E, 6E network, telephone, coaxialI cable
Max. distance of wiremap
2000m
Max. distance of tracing
2000m
Max. distance of tracing
1000m
Max. distance of tracing
10m
Accuracy
3 % ( after calibration )
Compatible connectors
RJ11, RJ45, BNC PING / POE
Cable map indication
LCD ( # 1- # 8)
Battery Type
3.7V lithium battery 1800mAh
Work temperature humidity
10℃ ~ -60℃ / 0℃-70℃
Dimension ( LXWXD )
173x92x34mm
NF-8601W Receiver specifications
Cable hunting
RJ11, RJ45 BNC
Types of cable
≥2 cores
Battery Type
3.7V lithium battery 1800mAh
Dimension ( LXWXD )
183x58x35 mm
NF-8601W Remote unit specifications
Compatible connectors
RJ11, RJ45, BNC
Dimension ( LXWXD )
106x32x30mm
Functional Description
bg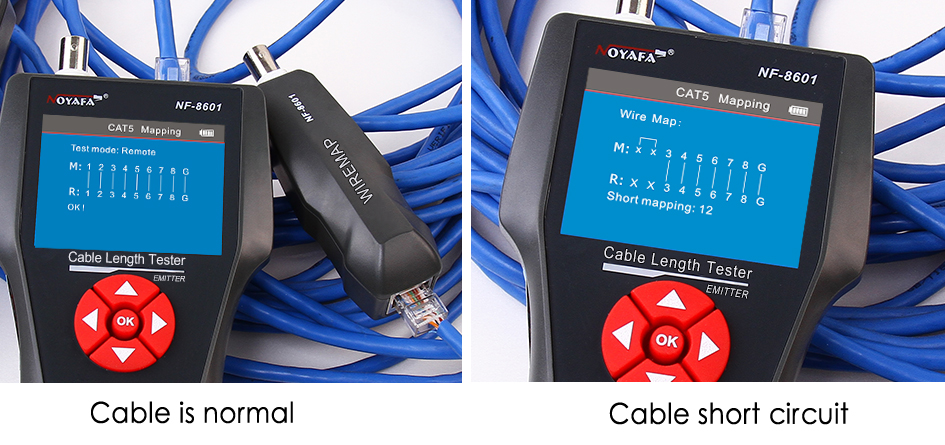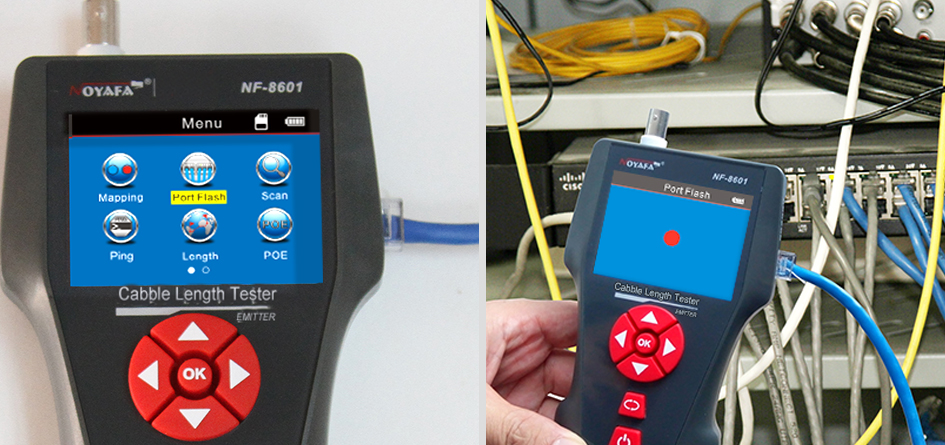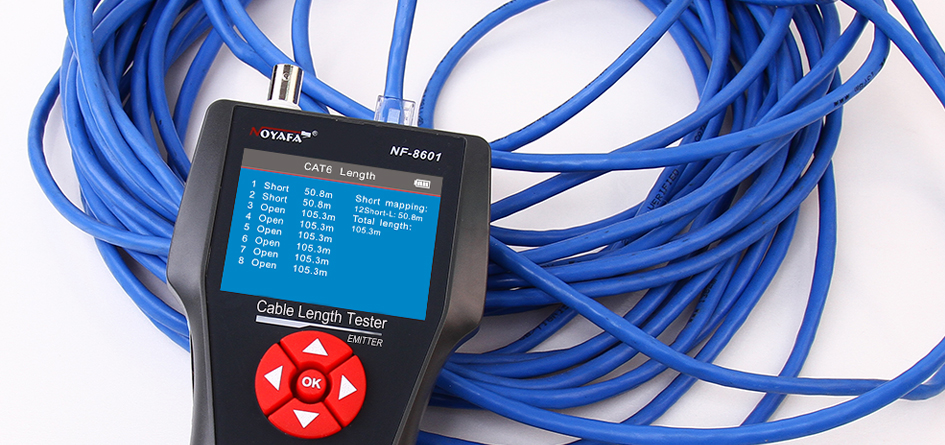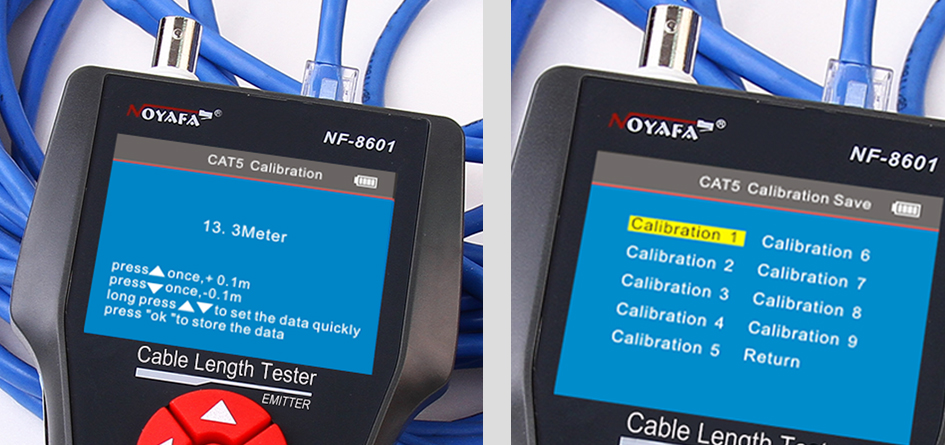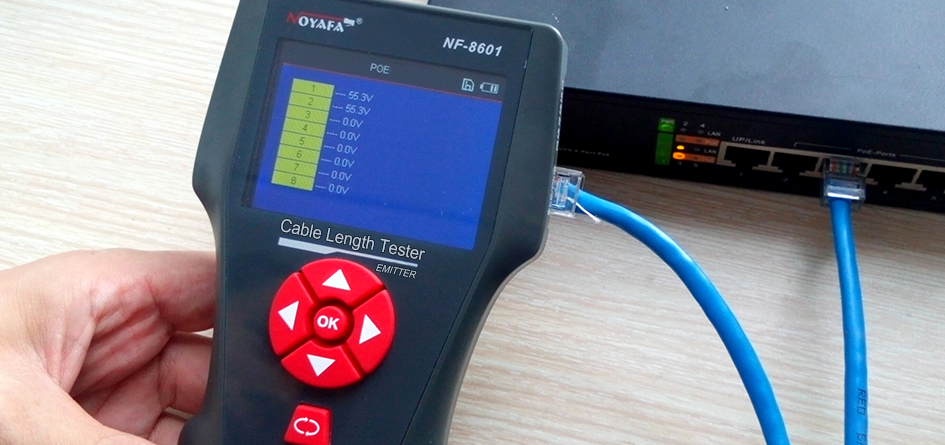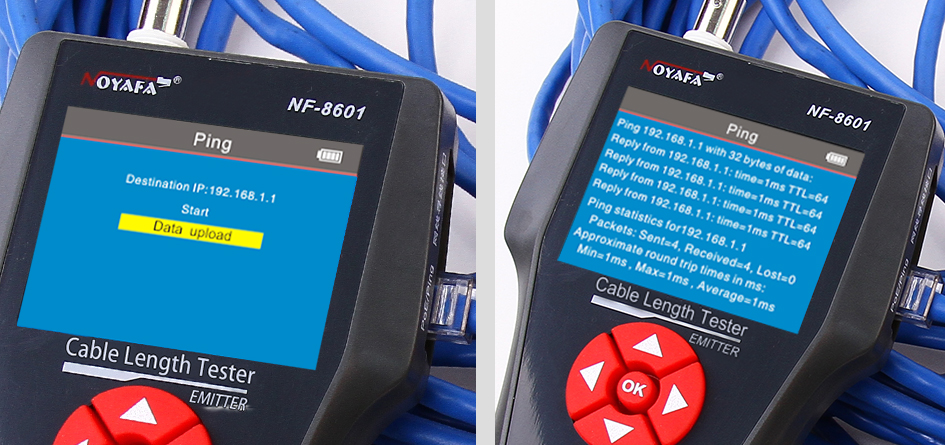 Cable installation & Networking maintainance